Today's a quick one. A couple of months ago (well more like 4 couples of months ago actually) I got a funnly little sculpt amongst some Judge Dredd Citadel models. The figure looked like some sort of mutated pitbull and I thought at the time it could probably act as a good genestealer infested dog. teh style and scale though didn't do it for me so I thought about how to use it...
Now it did remind me of something I'm sure you'll recognise too :
Slimer from Ghostbusters
,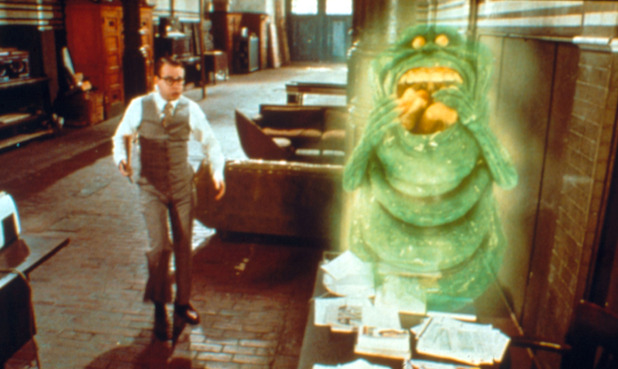 The fat levitating form with a wide mouth made it quite close to the dirty little green spectre from the movie and it immediatley made me think about something : Ghost + dog + Rogue trader = Astral Hound
Astral Hound illustration taken from the Rogue Trader Rulebook.
Mainly because green would have looked silly and because an ethereal form would have been a tedious work, I opted for a very pale paintjob consisting in the use of many washes and glazes over a very light grey to give the impression of a very thin and almost transluscent skin. I wanted the hound to look tangible and therefore leathal. I realise I could have tried to paint the shift between ethereal and tangible forms (like above) but I got carried away with the painting and forgot about it.
I think the fact it's floating and the many little eyes make it clearly more than just hound dog.
You just can't tell if the front or rear are the scariest with that guy...
The model is from
Figone's range
and is acually called a "Voreur" (that'd be Vorer in english). You can see it painted by Master genius Jeremie Bonamant-Teboul :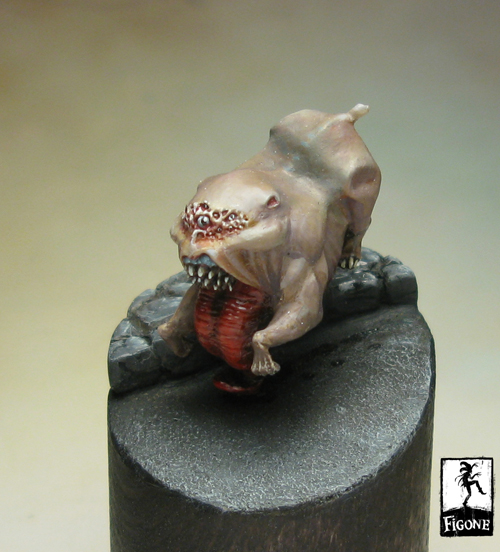 All in all that was a really fun model to paint and while the amazing level of detail could have used a far more advanced level of painting than mine, the details were not a problem and the lovely textures here and there really made this a pleasant couple of hours to spend.
Now, it is quite unlikely taht i'll make a pack of them but Ithink a dungeon game (heroquest or spacehulk) with adventurers coming upon such werird creatures in the depths of underhive sewers would be very cool I think...