So this is the last episode about my rogue trader warband : Space Roger and his galactic farers.
Our 2 new members today are some classics amongst classics :
First in line we have Mario, a space dwarf clad in a carapace armour/space suit. The paintjob is totally not original since it is a straight copy of what I did for all the other members. Beige trousers, red armour and corroded equipment was the recipe. Mario has a few more details with a strange M device on his shoulders, helmet and backpack. I don't know what it stands for but I've decided that this was meant to mean Mario. Come on, a little red guy with pipes on him must be named Mario (he's a dwarf so he has at least a moustache on top of that) you know it makes sense.
I have to say this model was absolutely delightful to paint, very neat and precise and it proved a very quick and enjoyable one to paint.
The sculpt really is a good synthesis of a dwarf with the size, the plated armour and horn looking device on the helmet and of a retro-futuristic robot. A perfet combination, far from the space bikers that came afterwards.
For me he is the missing link between this :
and this :
And it also enables me to have one more model from the first release in this warband :
The model only gained his Irn Bounce name afterwards (note that 4 models of this picture are in Roger's team) :
Now, I started saying I had 2 new models to show, so beafore riot arises and people start screaming, here is another one.
The other member I added to this team is Johnny Savuka. Johnny is a crocoman which was freed from slavery by Roger and which in turn gave his loyalty and life to our poncy Rogue trader.
Johnny comes from a strange planet where ritual dances include throwing your foot high in the air to stomp it violently in the ground. Whenever Johnny does that, you immediately have all the other members rushing to check if nothing bad happened or of they have not been hit by ennemy fire. Most of the time, they get back to their post asking him to warn them the next time he's dancing in his room...
Do I have to tell you this model is a Judge Dredd Klegg ? Probably not, you're all knowledgeable and full of ressources. This means I don't have to tell you they're a bunch of space mercenaries appearing in the Judge Cal Arc :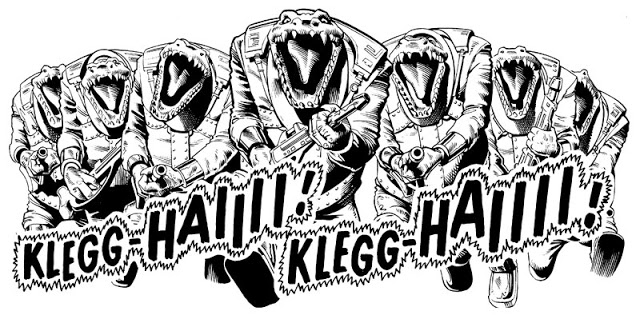 Nor do I have to tell you that 2 models were released for them :
I like the left model better because he looks more civilised and less savage which helps to integrate him amongst humans.
I have seriously no idea how those 2 little rockets of his are supposed to lift his weight but they look good and help integrate him amongst other space dwellers I think.
As I'm typing these words, the estimeed Axiom just released his own interpretation of the model (well a couple a days ago) and I thought funny to see we were working on the same model :
You may wonder why I chose to put these 2 fellows in the same post, well, they were the last 2 so there was not much of a choice but here is another answer : They have the same pants and gaiters (oh and I actually learnt this week what gaiter meant and I found it so funny to see a Klegg wearing some...). Proof :
I just love a good back to back picture (You got my back Mario? Sure thing Johnny ! You and me against the rest of the world !).
So here it is in its entire glory, the complete warband of Space Roger and his galactic farers. Only thing missing now is a galactic vessel for our adventurers to roam space with. I have some ideas about that which should see the light of day after summer.
"To infinity, and beyond!"