Level 7 of the Rogue Quest ! This time is my turn after
Jon's brilliant bard
and I decided to go into the heavy weight category this time.
As you know, the barbarian is one iconic type of adventurers renowned for his delicacy and very refined approach of things...
Yeah OK, laugh all you want, wether you want it or not, the barbarian is the hero we all admire as kids because you can immediately understand what he's all about, generally one goal, and almost one way to achieve it : violence. When violence doesn't solve a problem for a barbarian, it basically just means he hasn't used enough of it yet.
Barbarians have one trait in common : a flawless athletic physical condition with most of the time muscles where no one knew there could be some :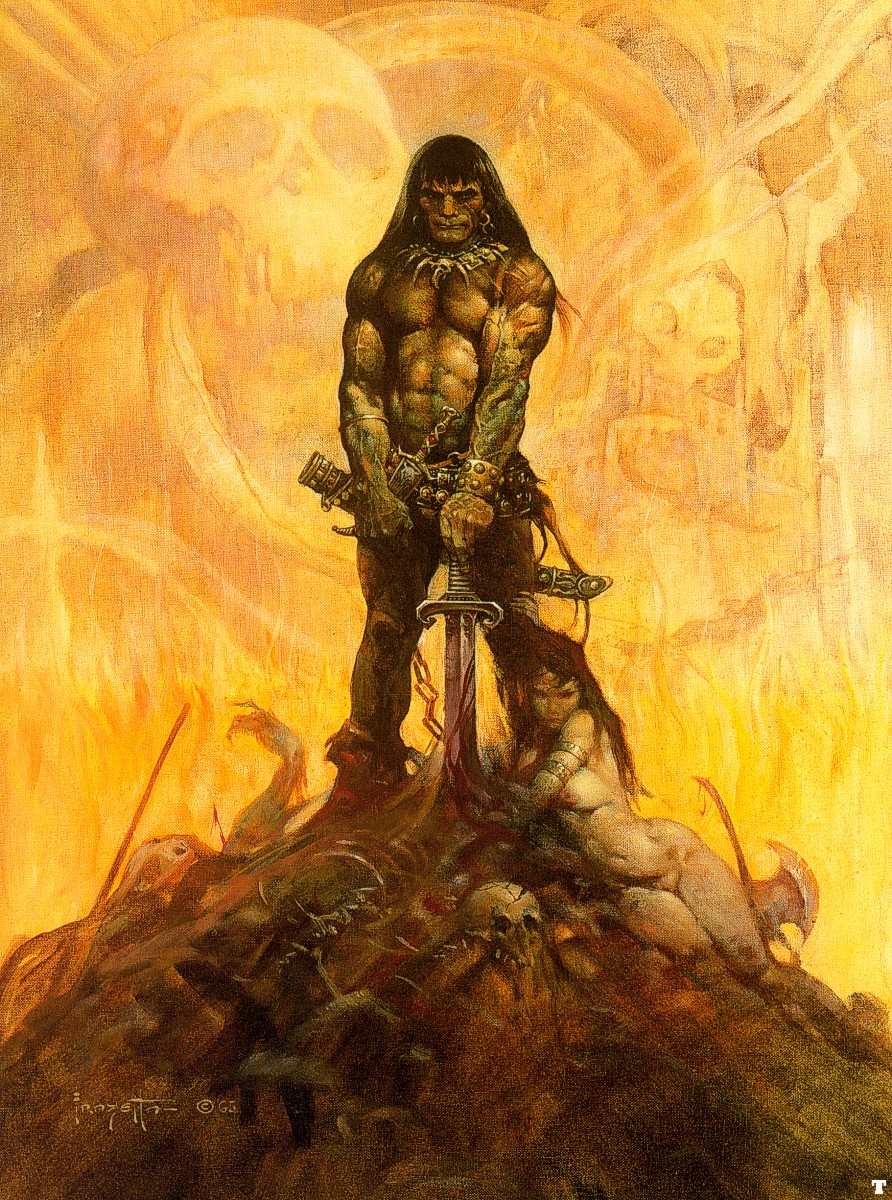 By Frank Frazetta
To echo this I wanted a hulk of a man and I was lucky to have the perfect model for that ! This model is one of the original space marine scouts (thanks to
Jason
for pointing me to the solegend links).
Just take a quick look at him and you can see he's one big bulky baby ! Scale wise he looks like
those big Chainsaw warriors
. He towers most RT models and I'm close to thinking he's half ogryn or something to be honest...
If you want to see the original approach and if you're not afraid of epilepsy, have a glance at this page from the old times...
His counterparts are not as huge as he is but they kept the punk look that later was combined with a squire look when the background behind scouts made them the rookies they continued to be afterwards.
But you might wonder why I opted for this colour scheme... the answer is pretty easy and lies in one name : FINNEGAN.
You don't know Mad Dog Finnegan ? Well Finnegan is the body guard of Ulysses, a marine scout gone rogue. His story has been told in the most brilliant manner by the genius
Private Weird
. If you've read this blog some time before, you may remember I'm a huge fan of this delirious blog that offers the best stories and which reminds me that of all tools we have in our hobby, the most powerful is undoubtfully imagination.
Here's a
quick presentation of the gang
if you don't already know them !
You 'll even find the
profiles
for Ulysses, Mad Dog Finnegan aboveand the whole gang !
Now if you haven't read the story before, just know that my interpretation of Finnegan is set after the terrible events happening
HERE
and
HERE
.
Mad Dog Finnegan is forced to take dangerous missions to retrieve funds and means to get the gang back on its feet...
Since I had the model selected and I couldn't see it painted in any other way than Finnegan, I asked Private W. the right to copy his character for my own purpose and tried to pay an hommage to it. You can see I did not replicate it exactly because I felt it had to bear my own touch and because my version is a bit older than the one you can see in his stories. To add some contrast, I decided to pull up his sleeves (a whole symbol on top of that) and to vary the colours on the armour parts instead of having black all around. I also added notes of orange to tie the model with my other Rogue quest models but I obviously kept the purple dyed hair, a tribute to Ulysses.
So here we are : 4 of them done which means 2 thirds of my program done, my
BBF Captain Crooks
has started to work on rules so hopefully we might have what we need to get those babies playing ! I quite like the group so far but I'm starting to feel I could have used a little more of the fairer sex in the party...
Looking at the picture I'm pretty sure Finnegan is half Ogryn by the size of him...
That should be all for this week but I'm actually working on a tutorial for the Champions of Law with 3 new models to add soon. Oh and I'm also working on some old friends as a commission too which is kind of funny. ^^