I'm reaching the end of this little journey in the future dungeoneering
Axiom
and I wanted to explore as this is the 5th out of 6 models I'm about to present you. This new entry is the druid. The druid was introduced as a subclass of clerics with specifities that made him a little more characterful.
To represent that kind of character in the grim darkness of the far future and especially in the depths of the underhives. Thing is, I actually didn't pick the class first but the model, I was considering doing a cleric as it's a type of characters I fancy but I couldn't find any suitable model (
Alex did find a very good model though
). That's when I fell upon this confrontation dogskin (who would be replaced by ratskins in Necromunda) which I 'd had for some time without knowing what to do of it.
Like many confrontation models, this one is very small and delicate and if you look closely the base somehow seems a bit too large while the arms are also slightly too big for the model. With thiselement and the fact he's wearing a dog pelt, I knew I could use him for something really nice. I gave him a unassured pose on purpose to show combat with guns is not necessarily is forte. The druid's power lies somewhere else...
Though having him change into different animal forms seemed a tas out of place in the Rogue Trader setting, it seemed to me having a character able to control all sorts of animals could be pretty fun !
The pelt, the link with animals, this was all leading me to something most of us are familiar with :
All this lead me to visually link my model with native americans by giving my character a matt skin used to the sun and by giving him face paints. To act as a contrats, I gave him a pair of blue jeans and painted his shoes as some (once) cool pair of runners. The orange clothe is here to link the model with others of the group and to add as a contrast to the blues.
It felt somehow better to me than going along the crazy hobbo look you could see in White Dwarf for those :
By Martin McKenna
Below you can admire the underhive druid along his little helpers :
First are the classics with a pair of rats. I had no choice but to have rats really, they're iconic and they will be perfect to add atmosphere in any game. They're the sort of creatures you kill by buckets at the start of games (ever played Fallout ?) and they're the sort of creatures that travel in cargo tanks across the whole galaxy. Their ability to spread disease and find food is unrivaled. Models are plastics taken from GW undead kits.
Then I had a dog from the brettonian kit which was still waiting for some paint, what better occasion than this ! The dog is the perfect companion for any adventurer and its ability to wake everyone by barking and to lick his own anus for hours are unrivaled in the whole galaxy.
"Erm, dude, there are more and more rats, maybe we should have brought a druid with us..."
Then we have some more exotic creatures...
First on the left, we have the Vermilepus. The creature could easily be seen as a mix between a hare and a anteater if it wasn't for its outrageous colours but the vermilepus is actually a far more sinister animal. It has the ability to slow time around. This ability enables him to flee dangers (predators rarely manage to reach a vermilepus) and to hunt preys as the vermilepus is not subject to the statis it creates. It is said a flock of those could literally freeze time for good. Hopefully, this rare creature is not one you can encounter that easily. (Model from Colony 87)
Second from the left is the Scaranzee. This cute looking creature is actually quite annoying for locals on planets infested by them. It's not particularly dangerous by itself but it has the tiresome habit to jump right in front of any creature to scare them. The fact it screams and has reddish tears falling constantly and looking like blood doesn't help one bit to make the creature any friendlier... (Model from the
wargames Foundry
).
Third from the left (and right) is Felis Flyus aka flying cat. It is a creature that naturally brings incredible luck to its owner and it is also an excellent scout due to its ability to fly and its natural hunting skills. Good druids wil lmanage to create a psychical bond with those to scout areas. Luckily enough it seems I've found a model that resembles my very own cat
(yes, the one that pissed on my Space Fleet box)
(Model originally from Beastface miniatures)
.
Fourth from the left is the manticat, a silly experiment from drunkend scientists who dared each other to breed as many species into one. It looks like a line proved viable enough to last and you can sometimes see those mixes of rat, cat, human and goat hunting insects or trash. (model from
BoltThrower miniatures
)
Last of the line is the dreaded Acecargot, a weird creature which leaves a gross acid mucus behind it which dissolves pretty much everything. Some planets have been wiped by those and once it has started to spreadn only the exterminatus can solve the problem.
Archives from the Ordo Xenos indicate that this creature could come from the terran "snail". Very little is known about it but the fact is the archaic form was even more dangerous as archaic forms were the size of a human and able to fight with fully armoured knights :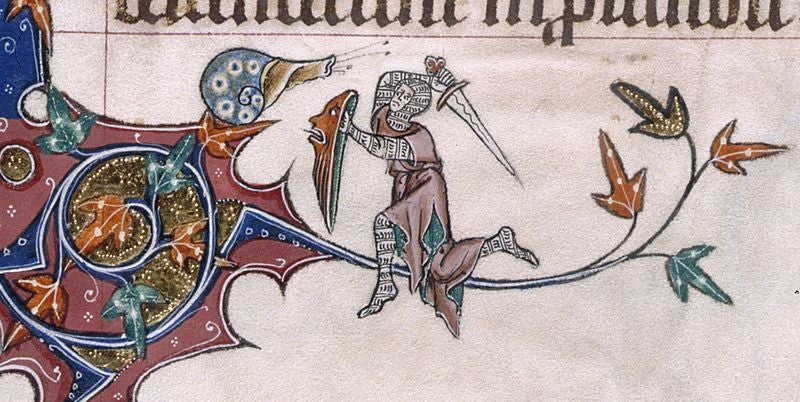 So here we are with the 5 adventurers who will soon roam through tunnels and dark alleys...
I'm not exactly sure what will be displayed here next but I know for sure I have plenty of "work" to do before the end of this year so that means pleny of painted things to come !