OK, once again I'm getting a little away from what the usual content here is but just like any other self respecting hobby geek, I just coudl'nt get past through that whole Age of Sigmar storm.
I am not going to do a review of the rules (I haven't tried them yet but I fully intend to... at some point...in the future... probably) nor a review of the models but just like many people, I just bought the WD that gave the free rules and free model aaaand just like any good butterfly, I immediately stopped doing what I was doing at the time and started building my Eternal Stormcast to play with it.
Then Summer happened and with it a wedding, moving house, BOYL and many other things...
Now things are a little more settled I found it would be the time to finish all the WIPs I still have (some dating from almost 2 years ago).
I knew right from the start I wouldn't paint the Sigmarite as is and I had to convert it in some way. Being of a chaotic obedience, I immediately tried to turn the good guy into an bad one. Given the size of the model I though giving it terminator weapons would be a clever thing bu it turned out that even for this poor gigantic chap, the plastic terminator weapons were way too big...
A brief weapon swap and here I was with a far better looking model. Remember that at this point the model was still intended as some big ass chaotic dude...
That was until my Fallout OCD came back knocking at my sanity's door :
Big nasty guy in power armour from the enclave
Even bigger nasty guy in power armour from the enclave...
OK, so nasty he will be but not necessarily chaotic or evil...
Then I just realised that the guy's armour is covered in little lightnings (remember it's a stormcast eternal) and who else has got that :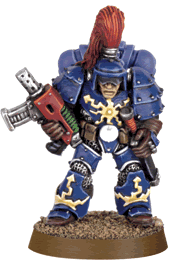 That's right, thunder armour or one of the very first Space marine armours (I'm not very good at 40k canon fluff but I know that much). I have to say it imeediately lit a bulb above my head (or it would have in any good carton).
I had just modelled a proto primarch !
History will always remember Columbus, Gagarin and Sanguinius... just has it will ignore all those that were before them but didn't live to tell or weren't allowed to...
There's a sordid irony for Cain in knowing that it never occured to anyone that the primarchs everyone learnt about could have been the result of painful and long researches rather than the fruit of a divine miracle... being millenias old and spending most of your life fleeing from those who created you and need to erase you from History when they first meant to make a hero of you has taught Cain one and only one thing : nothing matters.
Every consideration about good or evil, every thought about the meaning of life, every feeling or hope ... all of these are just like dust blown by the winds of time.
Cain lives now though it could seem he's always lived, that must be what the gods feel like in their sacred havens, but he knows how the fall tastes...
Don't know about you but the idea of having that huge rogue monster on a table really sets me up, he could be on either side of a game, played by the GM with none of the players knowing his real intentions, he could be the prey of several rogue traders or space pirates, bounty hunters or whatever...
Just a few more shots of him just to show how bulky he is next to a recent plastic model and a classic Rogue trader one :
I normally have no real idea of what the next post is gonna be about but for once I have a pretty good idea about what I'm about to work on, let's just say he's another guy who's both been left aside by GW and myslef for way too long...
TTFN