When people think about Rogue trader robots, they often think about the imperial set of robots :
This range and the rules that accompanied them in WD are well renowned, especially for that "robot phase" where the Robot's behavior was decribed by a set of "Goto" commands which made it VERY long to play.
But this time I'm going back a little further and will be considering robots as portrayed in Rogue trader.
Here is how they're described in that sacred book :
I really like the freedom offered by this small description, you can make anything sentient from a lascannon to ... let's say :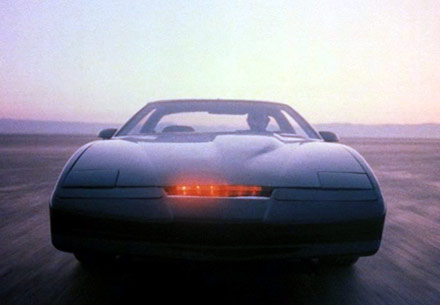 The missing link between Dark Future and rogue trader
I think there's a goldmine in that auto-system thing and I'll see if wilder concepts can come to life with it.
Roaming through the rules, the entries offered are quite complete and the first of them seems one of interest...
Tracked robots feel like Déjà-vu :
ABC Warriors Mek-quake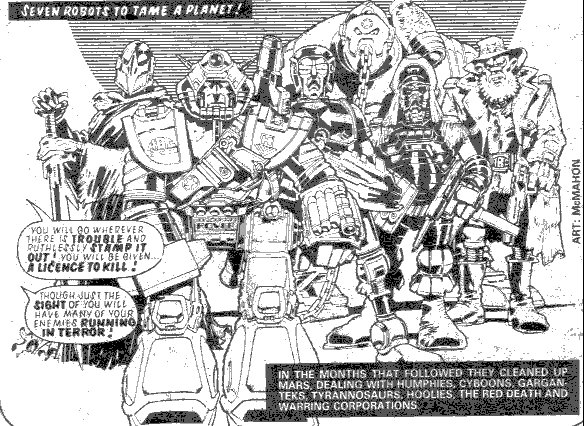 2000 AD's ABC Warriors
Walkers in RT
2000 AD Ro-jaws from ABC warriors
Wheeled and tracked robots as portrayed in Rogue trader
Yeah sounds familiar too.
So far you must have noticed I've ilustrated most examples with ABC warriors. I did that because it is no secret 2000AD publication and early Rogue trader share the same DNA. They are however very characterful and I may prefer soul-less robots or at least ones with very cold logic and weird behaviour to include in my games. The reason behind it is I want to make something not too anthropomorphic. I do plan on making more antropomorphic and characterful robots in a mildly distant future.
So now I now I want a not to antropomorphic hover robot... I hear you say "HEY JB, Hover robots have been around for ages ! ", and you're right as always :
Hover robots fly and look cool so it's what I want OK? So let's take a look at the profile :
Huum, so basically robots in the future are like food portions ? I'll go with a large robot then. there is no specification about the actual size of the model but I'll assume the medium size must be around that of a human or slightly bigger while the smaller may be the size of a pet. the large size will be the size of the imparial robots and anything clearly bigger than humans. I also notice that the bigger the robot, the dumbest he gets... that fits how I wanted my robot, that also means if I want to make intelligent robots, I'll probably make them smaller...
I've opted for a body twice the size of a human but as he's hovering , he will actually be far much higher than humans (hence the fact he's looking down).
This is the basic build, it still requires some refinements and bits of Green Stuff here and there but you get the general idea. A flying robot with tentacles, a huge gun and a big head full of sensors and antennas.
The main body (in white) is an IKEA coloring pen I kinda took to my daughter (it as nearly dry anyway, and I...needed it).
Most of the other bits were salvaged at my local hobby shop where they offered to fill plastic bags from boxes full of bits. I picked loads of mechanical parts in hope to find a use for them and I just did here.
Painting wise I'm not sure which way I want to go between a martial grey or green but there will be heavy weathering on that one.
Once he's good I'll probably play with the custom rules and make him a nice silly program. For now he'll just be my large Rogue trader robot.
One last pic just because I'm a nice guy.